Travel Guide
Travel guide mobile application is a guide in true sense which makes travel enjoyable and gives you valuable information without exerting too much effort or money.
My Recipe
Browse through thousands of top-rated recipes featuring mouth-watering pictures divided and reviewed by people from all over the world.
Signpost
The Beacon, NY Tourist Guide presented by SignPost Apps is a comprehensive guide to the Mid-Hudson town of Beacon, NY.
Which Mobile Platform?
So which mobile platform should you develop for? After all, you've got to pick a single one, right? Wrong. More relevant these days than ever before is the ability for users to access your apps cross-platform – i.e. on whatever mobile device or operating system they so choose.
Ask any industry insider about the best mobile operating platform, and there will be a wide range of answers. Officially, iOS (Apple devices) is the most popular. Android (by Google) is the fastest growing. Nokia is the most widespread & will ship with Windows Phone.


Dilemma Solved.
The dilemma of choosing a single mobile operating platform to develop for is no longer valid these days. We now have the tools, utilities and frameworks to be able to design once for complete compatibility with a range of operating systems – including all those named above. The beauty of cross-platform development is that different kits and frameworks can be utilized depending on the type of app, level of flexibility needed, and so on.



Appcelerator Titanium
The most functional and reliable development package for cross-platform mobile app development currently available – no blueprint is too much for this. The bottom line is that if you can dream it, we can build it using Titanium. Apps can run on both iOS and Android Platforms with single source code base. Learn more about Appcelerator
We are Certified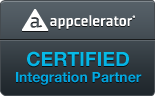 Titanium Mobile Application Development: An Awe-Inspiring Cross-Platform Experience
In today's times if you're planning to make an iPhone app or an Android app, soon you'd be looking for developing the app on the other platform as well. Lets accept the fact that both the mobile platforms are immensely popular and you cannot ignore any of them if you want to acquire the maximum customer base. So, until you've a specific reason for undertaking the Native development approach, what is the point of getting two separate apps developed by two different teams and working hard behind getting both the apps to function in the exact same way? And what if you also want the same app on Tablets as well along with smartphones of both platforms. It becomes a completely different story then. Instead, why not choose a cross-platform technology and develop one app that will work seamlessly on both the popular platform, and there is not better cross-platform development environment than Titanium.
Appcelerator's cross-platform development suite – Titanium provides excellent features allowing the developers to develop superb mobile apps that live up to contemporary mobile standards and users expectations. Elan is a Titanium Certified Integration Partner and that fact itself says a lot about our skills and our talent. With over 20 projects completed and shipped already in last one year, we are thriving ahead with our total focus on Titanium App Development. We wish to be seen as a globally competitive Appcelerator Titanium Development Company. Call us and share your ideas and requirements to us and we will design, engineer and come up with a world-class app for you.


Deciding between Titanium vs PhoneGap is very critical. Contact us today to get professional opinion.

---
At Elan Technologies we are a Cross platform Mobile Apps Development company having a team of mobile app developers that help in cross platform native apps development. We are also an Offshore Appcelerator Titanium Applications Development with a team of Appcelerator Titanium Developers that develop applications which stays with your audience. Hire Appcelerator App Developers/Programmers who are well experienced and talented in Titanium Mobile Development.