Buick
This application displays the details of each event and also gets the survey of the events. The application then uploads the survey to the microsite and allows admin to view the summary of survey.
Dunhill
This is an app for hotel where iPad users can see the menu in their iPad and order the food and/or wines. This iPad app is sync with the server, so new item gets automatically added to the iPad app.
My iCars
With this app you can research new cars, trucks, and SUVs and get free quotes and best deals from local car dealers. It allows user to search by price, body style, and MPG.
Hollywood Horse Club
This iPad application serves as a guide for horse owners. With this amazing app users can learn how to treat the horse for riding and can also improve his riding skills.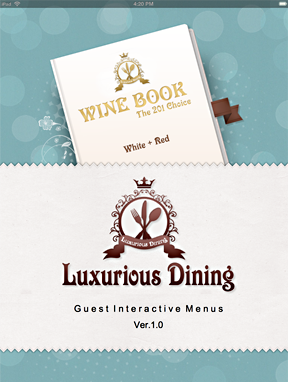 Luxurious Dining
Its an iPad app for hotel where users can see the menu in the iPad and order the food and/or wines. This iPad app is sync with the server and so new item gets automatically added to the iPad app.

The popularity of iPad Application Development
With over 400,000 iPad apps exclusively developed for the iPad on iTunes App Store, the iPad has successfully established itself as successor to the PC. People are already calling it as the post-PC era and have started using iPad as their primary computing device for consuming as well as creating content. iPad application development has gained a lot of impetus and all companies running desktop software are moving their business software on the iPad.
---
Advantages of iPad Apps Development
Larger Screen space
A larger screen enables us to display more amounts of interrelated information on the same page, which saves the user from going to and fro from different screens or scrolling unnecessary.
Strong Hardware
Stronger hardware configurations empower the iPad to install and run enterprise level iPad apps and provides them a comfortable environment to function.
User oriented design
Being a tablet device, the iPad allows the designer and the iPad apps developer to think about the purpose of the app, it's usable environment, the supposed user's using habits, etc. and design the content and navigation of the app accordingly.
Power packed mobility
Having the capabilities of a PC and mobility of a smartphone, it can allow the app maker to add the potential of mobility to their current desktop apps that they regularly use. This can benefit a lot to fields like Education, Healthcare, Financial services, Sports, etc. and others as well.
Security
The security that the iPad offers with its enclosed file system and restricted environment, it is a perfect device for corporate apps containing critical and confidential content.
---
Develop your iPad App
It is the perfect time to bring your stationary, every business software onto iPad, giving it the power of mobility. It can benefit your business and your life in ways unimaginable.
iPad is a great tool for productivity based apps. It allows its user to create things even on the go.
Data analysis and comparisons can be performed more fluidly and in a user-friendly manner with the bigger sized display by your side.
Copyright media files and content remain safe in your iPad app.
Same code-base with slight changes can get you an iPhone app as well.
---
Why Choose Elan for Developing your iPad App?
We at Elan have been developing iPad applications ever since 2010 when the first iPad was launched. Our instincts said that iPad is the next big bang in the tech universe and we were right. We've built several incredible iPad apps so far.
We love designing apps specifically for the iPad and taking the iOS apps to a new level. We are quite confident that no one else can port the existing desktop based systems onto the iPad platform as efficiently as we do at eLan.
Get in touch with us and know how our super talented iPad apps developers can help you build a beautiful iPad app.